Welcome to Northallerton Town Council's website
Our aim is to make Northallerton a better place to live, work and visit.  Our website includes information about our responsibilities to the local community, who we are and what we do.
Scheduled Meetings
Northallerton Town Council will not be holding meetings during the 10-day period of national mourning, following the death of HM Queen Elizabeth II. 
Scheduled meetings will be rearranged and notified in due course. 
We have developed a Strategic Plan to support amenity improvements over the next five years, here are the details:
Northallerton Town Hall is operating under the current goverment guidlelines during the pandemic and ensuring our residents and visitors have the relevant safety measures in place when using the building.  
Public Toilet access is as follows: 
8:00am – 3:30pm Monday to Thursday 
8:00am – 3:00pm Friday & Saturday
If you would like to contact us regarding town hall related enquiries please use enquiries@northallertontowncouncil.gov.uk 
If you would like to contact us regarding any council related enquiries please use admin@northallertontowncouncil.gov.uk
And for any financial matters please contact us on accounts@northallertontowncouncil.gov.uk
We hope all our residents stay safe. Please check back for regular updates.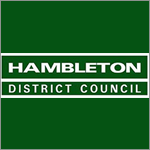 Hambleton District Council