Northallerton Town Council is pleased to announce a new agreement with Hambleton Community Action (HCA) under which HCA will use the proceeds of Grace Gardner Trust to achieve the Trust's aim of alleviating hardship amongst older people living in Northallerton.
The Grace Gardner Trust is a charitable trust, with town councillors as trustees, which administers the funds bequeathed in the will of Grace Gardner (1895-1966), who devoted much of her life to public service in Northallerton. The Trust's obligation is to "… relieve…elderly persons resident in the Parish of Northallerton…who are in conditions of need, hardship or distress". The proceeds of the Trust's investments is typically of the order of £4-5,000 per year.
Hambleton Community Action is a registered charity, founded in 1979, which utilises a network of over 150 volunteers with the aim to enable the participation and engagement of Hambleton residents by offering schemes such as befriending, carer respite sitting, community car and shopping, as well as arranging social activities and offering advice, information and support.
Mayor of Northallerton and Chair of Trustees Phil Eames said "I am delighted with our new partnership with Hambleton Community Action. HCA has a long track record of identifying and supporting elderly people in need and is the ideal organisation to ensure that the proceeds of the Grace Gardner Trust are used to support elderly residents of Northallerton who are experiencing hardship".
Hambleton Community Action Chief Officer Liz Lockey said, "We're delighted that the Grace Gardner Trustees have chosen HCA to help them to meet the aims of the trust. Like many other charities, we are seeing significant increases in the number of older people struggling financially and emotionally, and this arrangement allows us to provide support quickly and sensitively to those in the greatest need".
Contact Hambleton Community Action by email at reception@hambletoncommunityaction.org or call 01609 780458 (Monday to Friday, 9am-4pm).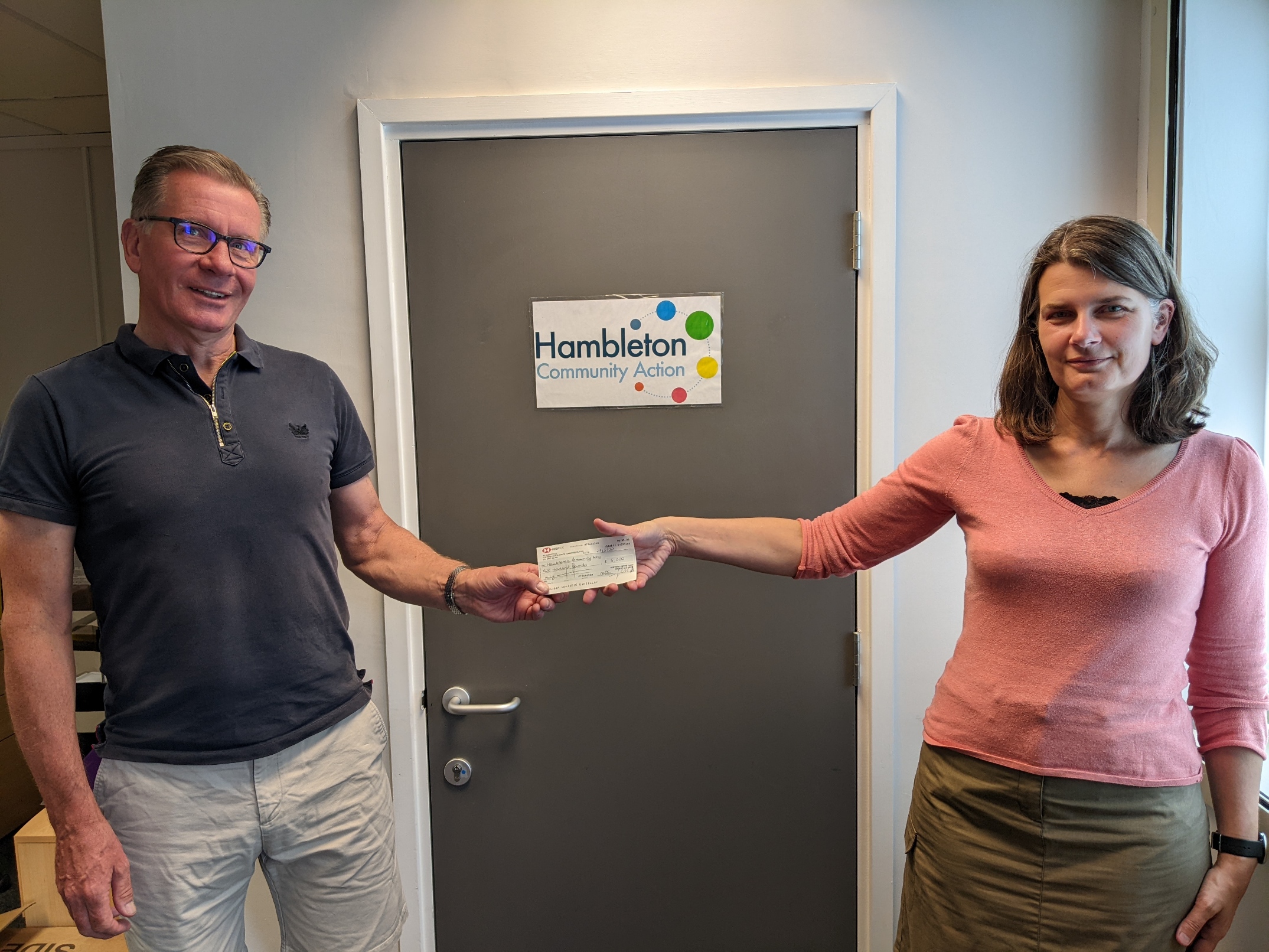 Grace Gardner Chair of Trustees, Cllr Phil Eames, presents a cheque for £5,000 to Hambleton Community Action Chief Officer Liz Lockey, 29th June 2022